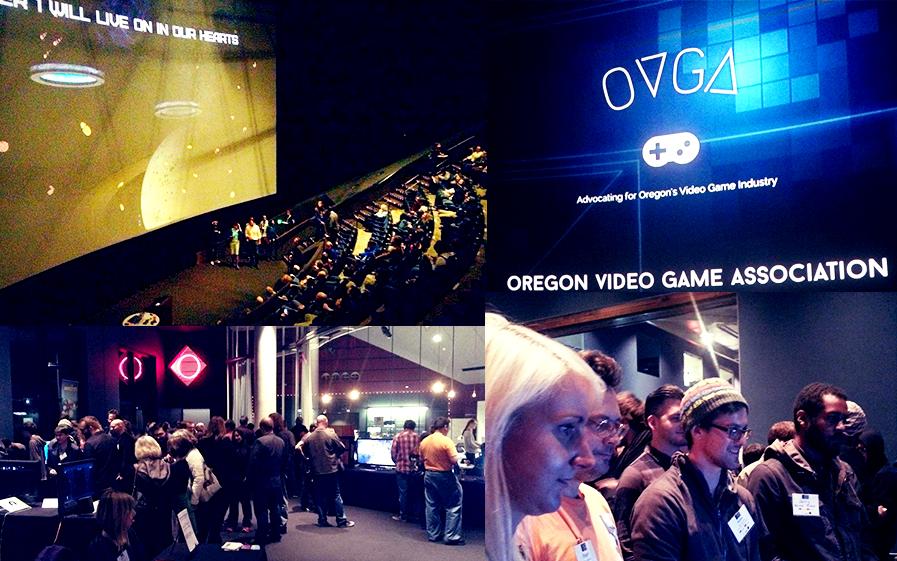 Whew! Well it's safe to say that you all are pretty amazing.  Game On was a huge success; we're delighted and honored that we had such an amazing response from the craftspeople and companies that make Oregon Video Games great.
Board members Rick Turoczy and Paul Culp summed it up pretty well.  Paul wrote thusly:
When we announced we were throwing a celebration of Oregon games at OMSI last Thursday we weren't sure what to expect. With only two weeks' notice would anyone come?

Game On Oregon sold out the day of the event. Over 300 game developers from all over the state, some trekking as far as Ashland showed up and packed the lobby and the 300 seat theater. The lobby was wall to wall locally-made games courtesy of PIGSquad and indie developers from Eugene and beyond. It was the largest single gathering of game developers I had ever seen in Oregon. For those of us who have been making games and running studios in Oregon, it was a novel experience. Something I am looking forward to seeing repeated.
You can catch the rest of Paul's post here.
And from the golden keyboard of Rick Turoczy:
There are those rare times. You know, the ones. The ones when you know you've been lucky enough to be around at the formative stages. Times were you knew that you were witnessing the beginning of something special. You could feel the momentum building.
Now it's up to all of us to capture that momentum that Rick's post so eloquently described.  The OVGA board will be meeting in January or early February to discuss what's next.  We're currently putting together an agenda and we could use your help.  Send us your ideas on twitter by using the hashtag #ORGamePlan.  We'd love to hear what type of support you need, the type of events you'd like to attend and the programs that you'd like to be involved in.  Feel free to send questions too! If you haven't yet, you can follow us on twitter @ORVideoGames.
In the mean time, enjoy the Holidays, and we'll see you in the new year.  2015 is going to be pretty exciting.